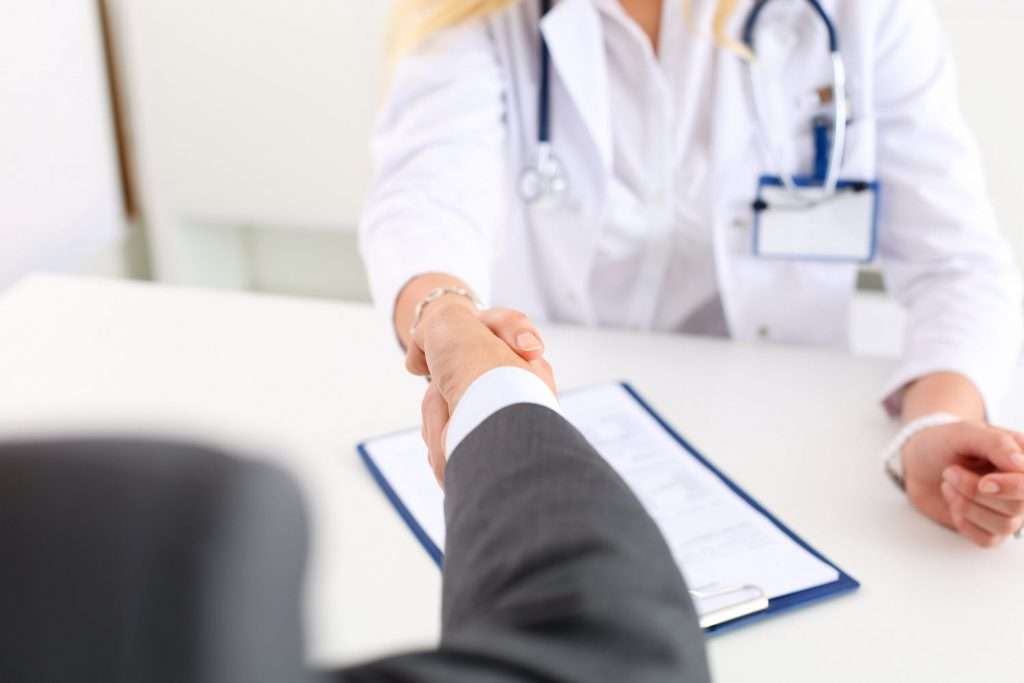 Here are 6 Best Doctor Recruiting Strategies to Use in 2022:
1. Call the Candidate for a Telephone Interview as Soon as Possible
Do this within 5 business days following receipt of his/her curriculum vitae (resume) and expression of interest in a position with your company. 
The candidate will feel there is no interest in him/her if they do not receive a call in a timely fashion. 
This recruiting strategy came from ClevelandClinic.org's "Simple Steps In Recruitment That Can Assist You Gain An Edge On The Competition."
2. Have a Plan
Yes, the first step of the plan is to sit down and actually come up with a specific written plan. 
"We're focused and methodical about recruitment," Mr. Walker says. "We're proactive, not reactive."
Get your administrators, your recruiters, and your staff organized to jointly develop a formal and strategic plan of action, and then make a commitment for everyone to stick to that plan. 
The IU team developed a worksheet with their activities and goals for the year, and they review this plan twice a month to make sure they're on target.
PracticeMatch.com shared "Physician Recruitment: Tips and Strategies."
3. Offer What Physicians Want
Studies show that the up-and-coming generation of physicians has distinct expectations of their employers.
They want the ability to practice quality medicine while having a voice in the process and more autonomy. 
Doctors are also more concerned about work/life balance.

Steve McMahan, president of CompHealth's permanent placement division, says, "Gone are the days when many physicians are self-employed entrepreneurs willing to work endless hours, nights, and weekends. Flexibility in the working arrangement is extremely important, and if you can arrange flexibility for your workforce, it can be a real game changer." 
More paid time off, part-time work, and a variety of flexible options will attract out-of-area physicians to your openings.
This doctor recruiting strategy came from CompHealth.com's "6 Tips For Recruiting Out-of-area Physicians."
4. Recruit the Family
The physician's partner and children will need to make a nice life for themselves in your community. 
You can help that process by showing them what the community has to offer for their specific needs and interests, which may include assisting with a spouse's job search. 
Give the spouse a tour of the town, including amenities they are interested in, like schools, houses of faith, cultural institutions and homes.
This strategy came from WoltersKluwer.com's "Tips For Recruiting Physicians – Thinking Outside The Box."
5. Be Transparent About Opportunities and Culture
If you're looking for advanced practitioners, specialists, or surgeons, be truthful and up front about these openings.
If possible, give specifics about the positions that are open, including the locations or clinics they'll serve, and the size of the community they'll work with as a provider.

Consider, too, using social media to reach out to potential candidates. 
Facebook and LinkedIn are both great for showcasing your organization's culture to entice new employees and doctors to your staff. Use these social posts as a link to a form, or opportunity for conversion on the website.
This recruiting strategy came from Geonetric.com's  "5 Tips to Improve Your Physician Recruitment Efforts."
6. Paying Off Medical School Debt
Education loans are still a key concern for many new doctors coming out of training. 
According to the National Center for Education, the average medical school graduate has $232,300 in loans and often isn't able to pay that back until after completing residency and beginning their full time job.
This doctor hiring strategy came from Doximity.info's "Recruiting New Doctors: What You Should Know."
How Will You Use These Top Doctor Recruiting Strategies in 2022?
Doctor Recruiting Pro Tip: If you want to shortcut your way to recruiting and hiring for open positions and staffing needs, you need targeted candidate and talent personal contact information to reach them quickly.
Looking for Healthcare & Medical Databases, Lists, Emails & Cell Phone numbers of Healthcare Professionals?
Heartbeat AI provides valuable accurate Healthcare & Medical Data Lists, Emails & Cell Phone Numbers of Physicians, Doctors, Nurses, and other Locum Tenens Professionals. Lookup over 10 Million Healthcare Providers contact info in a few clicks and get their personal email address and cell / mobile phone number instantly.
Sign up for Heartbeat AI Free Trial today.
Cover Image Licensed from: 123RF.com / Alexander Korzh.