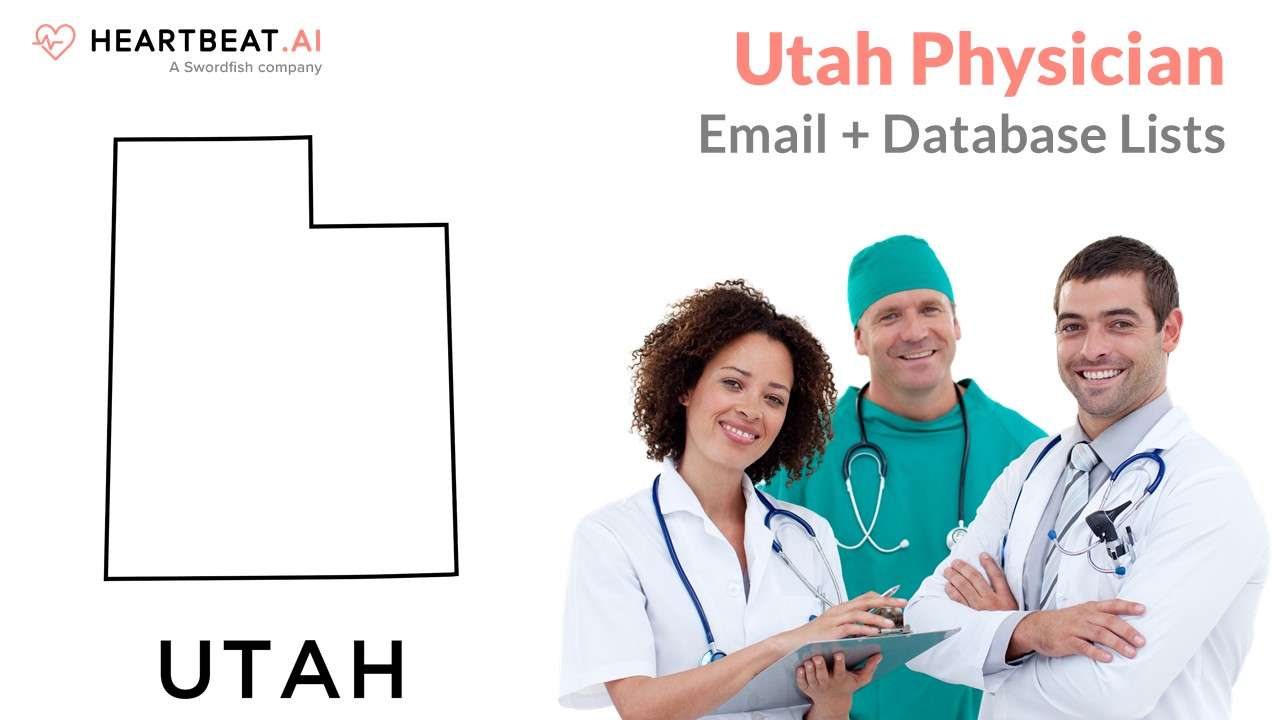 Utah has over 6,833 licensed physicians. With UT having a state population of 3,161,105, that means there are 216.2 physicians for every 100,000 residents in Utah.
Finding an accurate list of physician's email addresses in Utah on your own can be quite challenging. 
Utah Physicians Email List
Intro to the Utah Physicians Email List Database
Want instant access to the list of Utah Physicians contact information for all 6,833 physicians in the state of UT from Heartbeat.ai? 
Heartbeat.ai has the most comprehensive and accurate Utah physician contact database of email addresses, cell phone numbers, and mailing addresses, to help you with your prospecting or recruiting and hiring campaigns for targeting Utah physicians.
These 6,833 licensed physicians work at different hospitals, clinics, doctor's offices, and medical care facilities around Utah.
Utah List of Registered Physicians
Here is the list of database and contact information that you will get when searching the Utah physicians mailing list on Heartbeat.ai:
– Doctor Name
– Utah Location
– UT Work Telephone
– UT Cell Phone Number
– Email Addresses
– Physician Specialization
– Years of Experience
– Sole Proprietor Status
– Physician License Number in Utah
– Other Licensed Physician States (besides UT)
– Fax
– UT Address of the Doctor
Where to Get an Email List of Physicians in Utah?
Heartbeat.ai has one of the largest verified database lists of Physicians, Doctors, Doctor of Medicine (MDs), and other medical professionals from the State of Utah. The database list is updated in real-time to provide you with the latest and most accurate list of physicians in UT.
Popular Types of Specialty Physicians in Utah
In Utah's most populated cities like Salt Lake City, West Valley City, Provo, West Jordan, or Orem, there are certain types of specialty doctors in high demand:
All Physician and Doctor Specialties in UT

6,833

UT

Allergy & Immunology

34

UT Anatomic/Clinical Pathology

100

UT Anesthesiology

439

UT Cardiovascular Disease

108

UT Child & Adolescent Psychiatry

61

UT Critical Care Medicine

85

UT Dermatology

116

UT Emergency Medicine

427

UT Endocrinology, Diabetes & Metabolism

35

UT Family Medicine/General Practice

997

UT Gastroenterology

104

UT General Surgery

182

UT Geriatric Medicine

26

UT Hematology & Oncology

91

UT Infectious Disease

50

UT Internal Medicine

515

UT Internal Medicine/Pediatrics

45

UT Interventional Cardiology

34

UT Neonatal-Perinatal Medicine

58

UT Nephrology

57

UT Neurological Surgery

48

UT Neurology

94

UT Neuroradiology

38

UT Obstetrics & Gynecology

339

UT Ophthalmology

176

UT Orthopedic Surgery

183

UT Otolaryngology

91

UT Pain Medicine & Pain Management

53

UT Pediatrics

482

UT Physical Medicine & Rehabilitation

108

UT Plastic Surgery

72

UT Preventive Medicine

51

UT Psychiatry

211

UT Pulmonary Disease

45

UT Radiation Oncology

36

UT Radiology & Diagnostic Radiology

190

UT Rheumatology

37

UT Sports Medicine

48

UT Thoracic Surgery

33

UT Urology

71

UT Vascular & Interventional Radiology

21

UT Vascular Surgery

17
With Heartbeat.ai, you can explore these most popular physician professions and multiple specialty medical doctors, specifically for Utah and each city within the state. 
Utah Board of Medicine
The Utah Board of Medicine is dedicated to ensure public safety. The organization also certifies the licensed physicians that care for patients and their families by protecting the public from unsafe practices and unprofessional conduct among Utah physicians. Being a medical doctor is a rewarding career in healthcare when living in Utah.
Find out more about the Utah Board of Medicine here.
Conclusion and Summary for UT
The Utah physician email lists and other contact information can easily be found by searching for doctors in the major cities throughout the state of UT, such as: Salt Lake City, West Valley City, Provo, West Jordan, Orem and more.
Get instant access to over 2.4 million physicians in the USA, and the specialty list of licensed Utah Physicians contact information for all 6,833 physicians in the state of UT from Heartbeat.ai.
How to Purchase the List of UT Physicians and Doctors?
Besides the Utah physician specialty lists, Heartbeat.ai provides valuable and accurate Healthcare and Medical Data Lists, Emails and Cell Phone Numbers of Physicians, Doctors, Nurses, and other Locum Tenens Professionals. Lookup over 10 Million Healthcare Providers contact info in a few clicks and get their personal email address and cell / mobile phone number instantly.
See pricing here and sign up for Heartbeat.ai Free Trial today to get access to the email and contact list of Utah Physicians.
Cover Image Credit: 123RF.com / WavebreakMediaMicro, Zaki31072017.