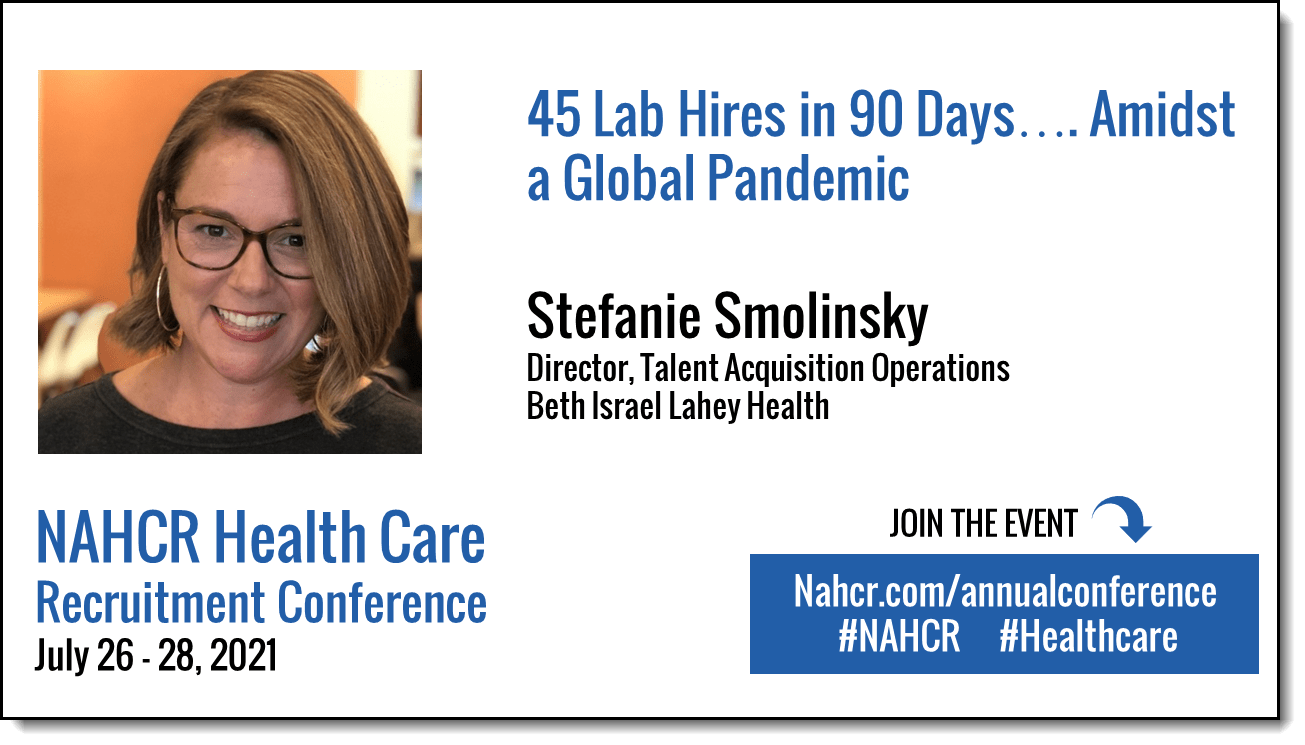 Stefanie Smolinsky is speaking at the National Association for Health Care Recruitment (NAHCR) Conference. Stefanie's presentation is titled, "45 Lab Hires in 90 Day. Amidst a Global Pandemic."
NAHCR Health Care Recruitment Conference Presentation:
45 Lab Hires in 90 Day. Amidst a Global Pandemic
Lahey Hospital & Medical Center, a member of Beth Israel Lahey Health received a $10M grant from the commonwealth of Massachusetts to process 6,000 labs per day, starting January 1, 2021. 
While this was a fantastic opportunity for the organization, the hiring demand it created at the peak of a global pandemic left the recruitment team in a very difficult position. In partnership with Fusion Marketing Group, the team created a robust multi-channel marketing campaign that would promote these new (46 FTE) lab opportunities to this highly sought-after audience in both the local and surrounding markets.
Join Stefanie and Daniel to learn exactly how this opportunity came to be and how the team was able to move quickly and efficiently while meeting the hiring goals and keeping a strict reporting and communication cadence with senior leadership at Beth Israel Lahey Health.
Don't miss this NAHCR Recruiting Presentation:
https://www.nahcr.com/annualconference
Stefanie Smolinsky
Director, Talent Acquisition Operations
Beth Israel Lahey Health
Watch Stefanie Smolinsky's Recruiting Presentation: