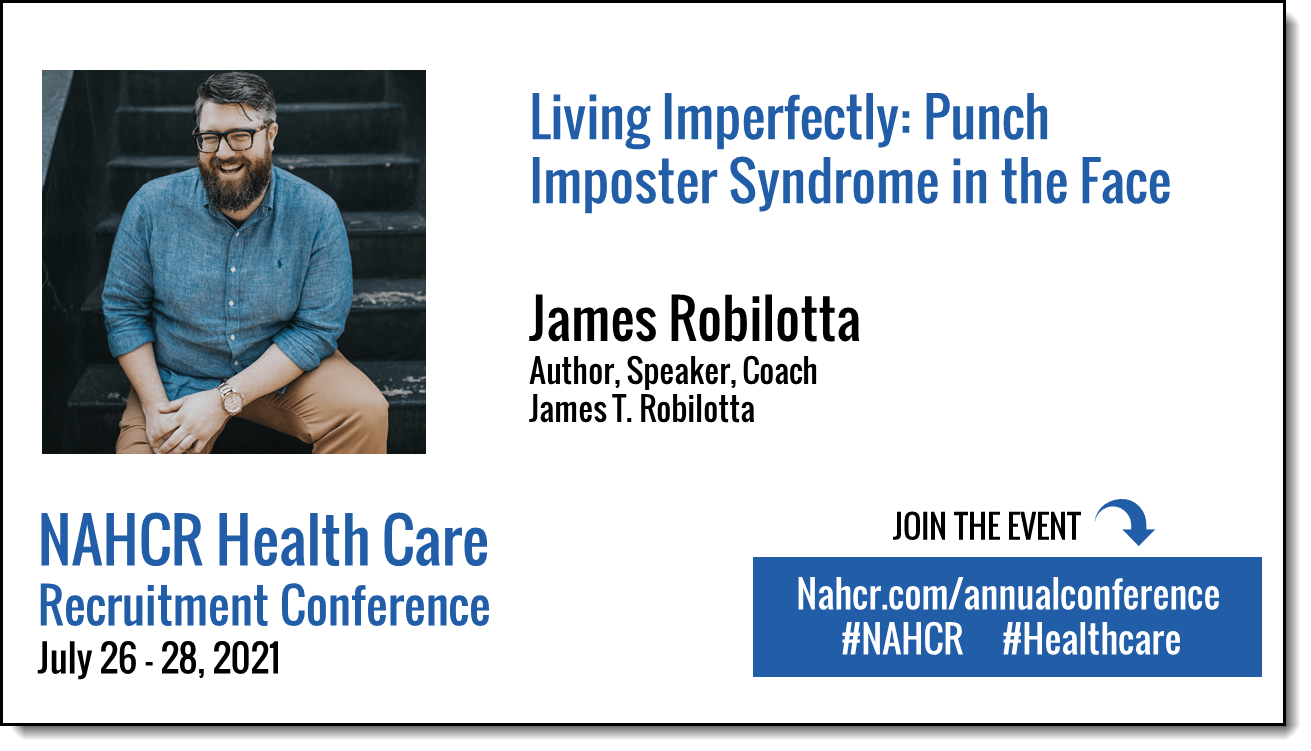 James Robilotta is speaking at the National Association for Health Care Recruitment (NAHCR) Conference. James's presentation is titled, "Living Imperfectly: Punch Imposter Syndrome in the Face."
NAHCR Health Care Recruitment Conference Presentation:
Living Imperfectly: Punch Imposter Syndrome in the Face
Life is messy, confusing, and anything but perfect, especially right now. So instead of chasing after the idealized image of the life we should want, this talk will provide you with the tools and the space to create the life you actually want, imperfections and all.
The pandemic has us all in our feels, and this program is designed to help you realize how resilient you are. It will also help you lean into the imperfections of life to live more authentically. More now than ever, we need authentic humans in our world.
This authenticity sparks open communication, forms tighter bonds, and allows the people in your life to be more engaged. Join me for some deep but hysterical, real-talk motivation that will serve as a boost for your mental health.
Don't miss this NAHCR Recruiting Presentation:
https://www.nahcr.com/annualconference
James Robilotta
Author, Speaker, Coach
James T. Robilotta
James Robilotta Bio
James is an author, professional speaker, personal coach, and trained improv comedian. After nearly 15 years of building, training, supervising, and evaluating teams, James followed an entrepreneurial dream and built two successful businesses. The first is an organization that incorporates freestyle rapping and beatboxing into improv comedy (but that's a success story for another day). And the second is his speaking and coaching business (which is a success story for today).
James has been speaking professionally to willing and unwilling audiences for years and has found that quality humor — not your lame, laugh-track, dad-joke humor — is the secret to hosting powerful conversations that make a genuine impact. His attendees leave feeling recharged, introspective, and ready to get out of their own way.
James' cornerstone concept is that we as humans can't learn from people who are perfect, we can only learn from people who are imperfect. This thread of insight led him to building businesses that focuses on authentic leadership. Companies like American Express and General Electric (GE) have gravitated toward this message and found the insights to be invaluable in shifting the way their teams communicate.
With years of research (and a few too many real-life case studies within his work), James learned everything he could about authenticity in the workplace and published his first book, Leading Imperfectly: The value of being authentic for leaders, professionals, and human beings. The concepts in this book and in James' speeches and workshops are the driving forces behind conversations about communication, rapport building, engagement, feedback, retention, promoting memorability, life balance, increased productivity, and more.
Simply put, James is working to bring humanity back into the workplace. Everybody has a story and he's on a mission to ensure that in their personal life and in their work life, every human realizes that they are enough.
Watch James Robilotta's Recruiting Presentation: