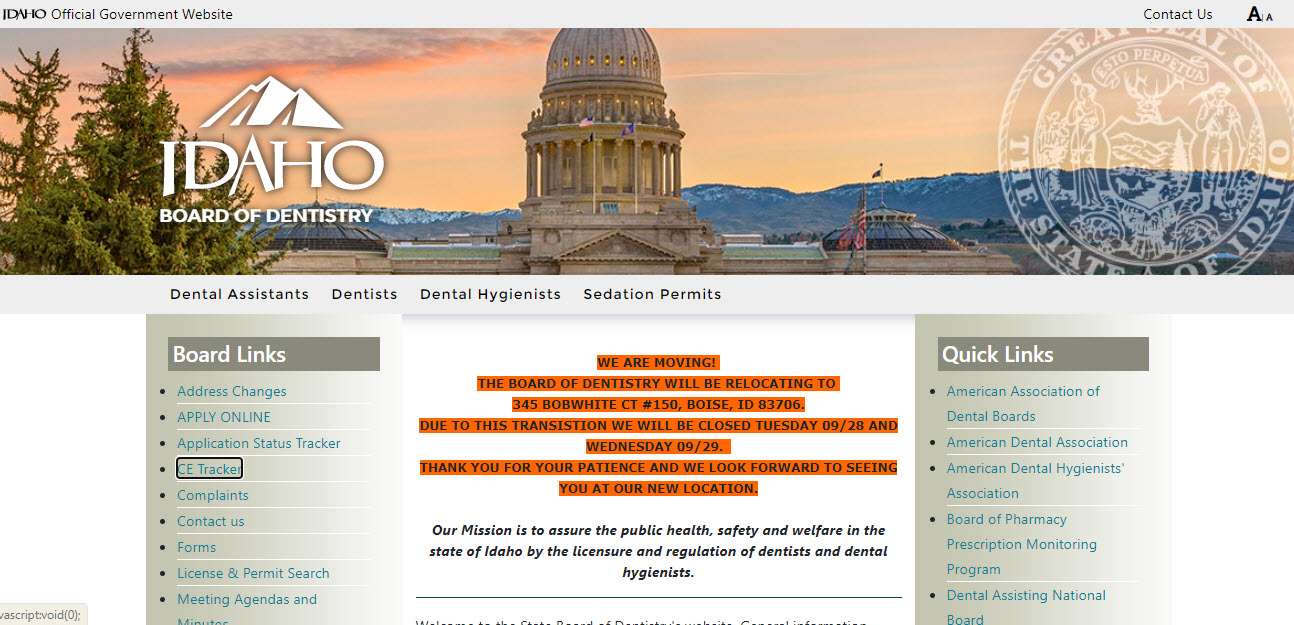 Idaho currently has 987 licensed dentists.

The Board of Dentistry sets the standards for the licensure of dental professionals in Idaho. In addition, the Board is responsible for enforcing Idaho's laws regarding the dental profession. The Board also helps regulate and control the quality of care delivered by dental professionals in the state.
Idaho Board of Dentistry was established to ensure that every dentist and dental hygienist practicing in this state meets minimum requirements for safe practice. Practicing these professions is a privilege granted by the State, so professionals need to live up to their responsibility through vigilant monitoring.
Also, the Board must license people who want to work as dentists or dental hygienists, ensuring they meet all necessary standards before permitting the license.
Idaho Dental Board License Lookup
Searching for licensed Idaho Dentists?

Quickly lookup Idaho dental licensing information such as: Dental Assistant, Dental Hygienist, General Practice Dentist, Orthodontist, Endodontist, and more, in just a few clicks.
Search the Heartbeat.ai Idaho Dentist Dental Database to perform an Idaho Dentist License Lookup quickly and easily.
Idaho Dental Board License Requirements
The Board requires that all applicants must meet all requirements before a license can be granted. If any application materials are incorrect or false, the Board reserves the right to deny licensure without refunding any examination fees.
Suppose the applicant has been previously licensed in another state and needs a Idaho dental license to continue practicing. In that case, they will need evidence of their current Idaho dental board eligibility status.
In addition, an applicant moving from another state where they were not in good standing may need other types of credentials such as certification or degrees before receiving a license in this state.
To get Idaho Dental Board License, an applicant must be:
• At least 18 years old.
• A graduate of a dental school accredited by the American Dental Association Commission.
• Passed following exams:
                        – Dental National Board Examination
                        – Idaho Laws and Rules Examination
                        – ADEX Dental Licensing Examination

You can apply for the License here:
https://elitepublic.isbd.idaho.gov/IBODApplication/UniversalPages/LoginPage.aspx?ReturnUrl=%2fIBODApplication
Idaho Dental Board Exam
You need to pass the following exams to get the Idaho Dental Board License:
• Dental National Board Examination
• Idaho Laws and Rules Examination
• ADEX Dental Licensing Examination
Idaho Dental Board Renewal
The Idaho Dental Board License renewal process is not to miss if you want to keep practicing in the state. The Board requires that all licensees must renew their licenses every two years between January and April.
An individual's dental board eligibility status may need to be updated before a new license can be issued. Therefore, apply for license renewal as soon as possible after establishing your eligibility with the Board, or else you will have to wait until next year to apply again.
Suppose a licensee has been practicing outside of the state without renewing their license while they were gone. In that case, they may need to be recertified by taking and passing another series of exams before they are allowed back into practice. 

You can check more information about the renewal form here: Renewal Information
Idaho Board of Dentistry Laws and Rules
The Idaho Board of Dentistry is responsible for overseeing the dental professionals who practice in this state. The Rules and laws governing this board provide guidelines for behavior to prevent any unethical practices.
A licensee who is practicing outside of the guidelines set by this Board can have their license revoked, or they can face charges for illegal behavior.
Frequently Asked Questions (FAQ)
Who Regulates Idaho Dentists?
The Board of Dentistry in Idaho ensures safe practice for both the dentist and dental hygienist. They license, monitor, and assess all individuals to ensure safety while keeping up with current practices.
Does Idaho Accept the NERB?
Yes. The NERB (North East Regional Board of Dental Examiners) is a good alternative for international dentists who do not have the CE (Continuing Education) requirements to get licensed in Idaho.
How Long Is the Dental License Valid in Idaho?
The dental license is valid for two years and may need to be renewed before you can practice again. In addition, you will need to pass an exam before getting relicensed.
Does Idaho Accept ADEX?
Yes. Idaho accepts ADEX (American Board of Dental Examiners) for dental licensure if you have a bachelor's degree in dentistry from an accredited university.

What is the Idaho Board of Nursing Address and Contact Information
The official Idaho Board of Dentistry address and contact information is listed below:
Board of Dentistry Name:
Idaho Board of Dentistry
Physical Address:
350 N. 9th Street. Suite M-100
Boise, ID 83720
Mailing Address:
350 N. 9th Street. Suite M-100
Boise, ID 83720
Telephone and Email Contact Information:
Phone Number:
208-334-2369
Fax Number:
208-334-3247
Email:
sbdinfo@isbd.idaho.gov
Conclusion and Summary
We hope the above information will be helpful to you in order to know more about the Idaho Board of Dentistry, their process, renewal process, address, contact information, etc.

If you want to know more, you can check out the official website for the Idaho Board of Dentistry.
Cover Image Credit: Idaho Board of Dentistry website.