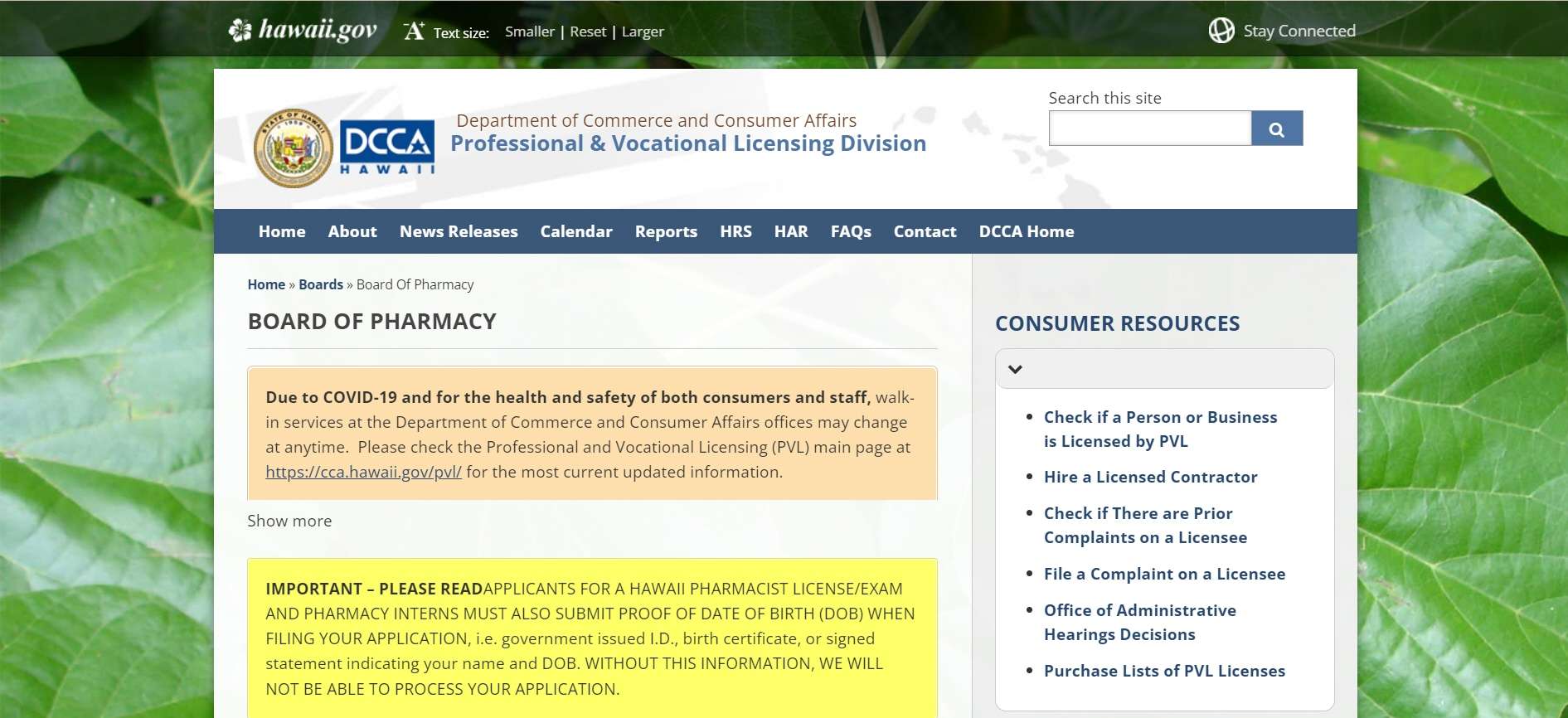 Hawaii currently has around 900 licensed pharmacists with an employment rate of 1.649 per thousand jobs. The average hourly mean wage for pharmacists in Hawaii is $61.58, while the annual mean salary is $128,080.
The Hawaii Board of Pharmacy was legislatively established to ensure that every pharmacist practicing in this state and every pharmacy meet minimum requirements for safe practice.
The Hawaii Board of Pharmacy is responsible for the licensure, monitoring and education of Pharmacy professionals to assure competency and safety to practice in their service to the people of Hawaii.
If you are researching Hawaii Pharmacists, Pharmacies, Pharmacy Interns or  Pharmacy Technicians, this article will help you understand how the Hawaii license process works, license renewal, minimum requirements, and more. We will also provide helpful links so you can find out more information about the Hawaii Board of Pharmacy.
Hawaii Pharmacy Board License Lookup
Are you looking for Hawaii Pharmacists?
Quickly lookup Hawaii Pharmacists licensing information.
Search the Heartbeat.ai Hawaii Pharmacy Healthcare Database to perform a Hawaii Pharmacy License Lookup quickly and easily.
How to get a Hawaii Board of Pharmacy License?
If you are eligible, then you can submit your application for the Hawaii Board of Pharmacy. You can apply online from here:
https://cca.hawaii.gov/pvl/request-for-a-license-verification
You will get notified about your application status from the board office within 30  days, sometimes earlier. You can check the status of your Hawaii Pharmacist application online from the official Hawaii Pharmacy website as well.
Hawaii Board of Pharmacy Licensing Requirements
Here are the initial Hawaii licensing requirements for Board Certified Pharmacists:
– 18+ age.
– Graduated from a school or college of pharmacy approved by the Hawaii Pharmacy board.
– Pass the North American Pharmacist Licensure Examination (NAPLEX).
– Hawaii State Board of Pharmacy must determine that you have met all the requirements for examination.
– Have successfully passed all parts of the Hawaii Licensure Pharmacist Examination.
Hawaii Board of Pharmacy Renewal and Continuing Education Requirements
To retain their right to practice, licensees, registrants, and permit holders with the Hawaii Board of Pharmacy must renew their licenses on a biennial basis.
Active and retired licensees must pay additional fees and fulfill special continuing education obligations if they want their license to be reactivated.
You can check more information about the renewal form here:
Hawaii Renewal Information
The process of renewing a license may take up to 5 to 7 days.
Hawaii Licensure Examination
To be eligible for initial licensure, applicants must have passed all parts of the Hawaii Licensure Examination within the three years immediately preceding submission of an application or within the three years following submission.
Applicants who have been licensed in another state must submit license verification from each state they currently hold or have ever held a license.
Frequently Asked Questions (FAQ)
Who Regulates Pharmacists in Hawaii?
"The Hawaii Board of Pharmacy" regulates the pharmacists in Hawaii to ensure that every person engaged in the practice of Pharmacy in this state meets minimum requirements for safe methods.
How Much Does it Cost to Renew a Hawaii Pharmacy License?
It will cost around $250 to $650 based on the renewal time, expiry date, license status, and other factors. Fees may change from time to time.
What is the Hawaii Board of Pharmacy Address and Contact Information
The official Hawaii Board of Pharmacy address and contact information is listed below:
Board of Pharmacy Name:
Hawaii State Board of Pharmacy
Physical Address:
PO Box 3469
Honolulu, HI 96801

Mailing Address:
PO Box 3469
Honolulu, HI 96801

Telephone and Email Contact Information:
Phone Number:
808-586-2695

Fax Number:
808-586-2689

Email:
pharmacy@dcca.hawaii.gov

Website:
https://cca.hawaii.gov/pvl/boards/pharmacy
Hawaii's Top 10 Pharmacy Locations by Number of Store Locations and Number of Hawaii Certified Pharmacists
The top licensed pharmacies in Hawaii include:
• Walgreens Pharmacy
• CVS Pharmacy
• Walmart Pharmacy
• Rite Aid Pharmacy
• Kroger Pharmacy
• Albertsons Pharmacy
• AmerisourceBergen Pharmacy
• Publix Pharmacy
• McKesson Pharmacy
• Costco Pharmacy
Conclusion and Summary for the Hawaii Board of Pharmacy
We hope that the above information will help you learn more about the Hawaii Board of Pharmacy, their process, renewal process, address, contact information, and more.
If you want to know more about Hawaii pharmacists, please leave us a comment below. You can also check out the official website for the Hawaii Board of Pharmacy.
Want to Purchase a Hawaii Board of Pharmacy Licensed Pharmacist List?
Get instant access to over 400,000 certified licensed pharmacists in the USA, and the specialty list of licensed Hawaii Pharmacists contact information (email addresses, cell phone numbers, mailing addresses, etc.) for all 900 Pharmacists in the state of HI from Heartbeat.ai.
Cover Image Credit: Hawaii Board of Pharmacy website.