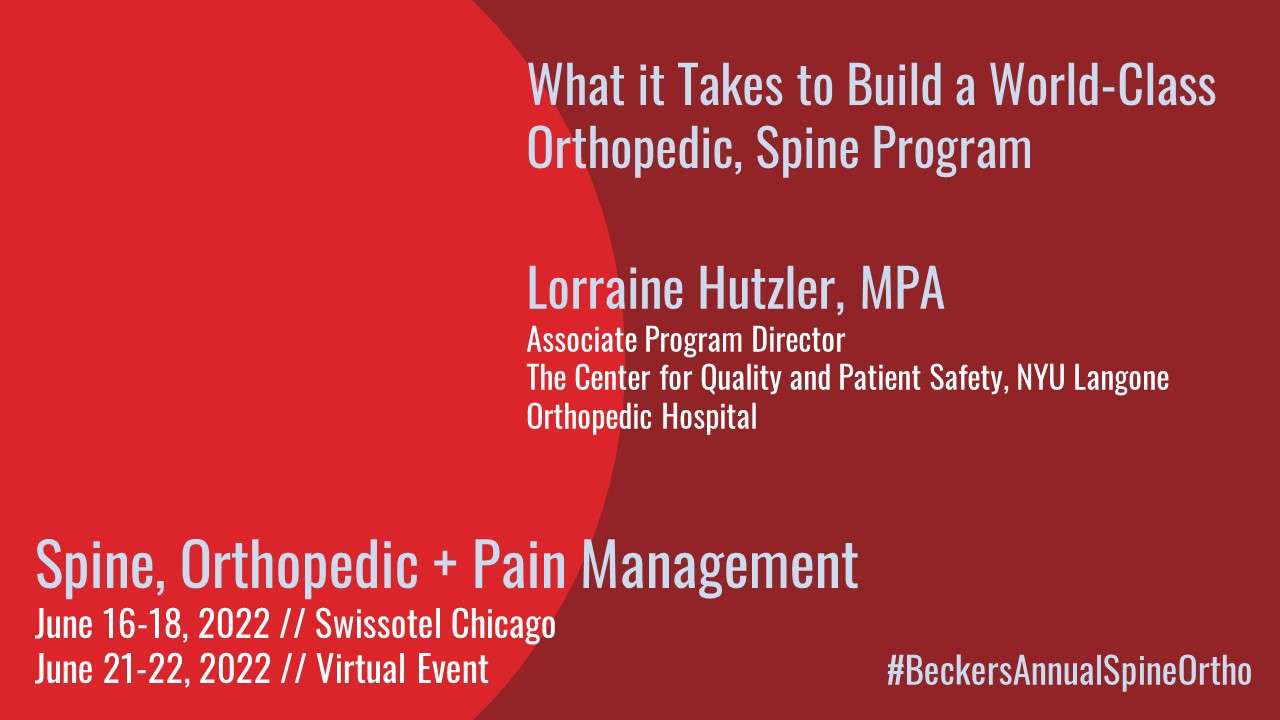 Lorraine Hutzler, MPA is speaking at the Becker's Healthcare 19th Annual Spine, Orthopedic + Pain Management-Driven ASC Conference at the Swissotel in Chicago presenting on "What it Takes to Build a World-Class Orthopedic, Spine Program."
What it Takes to Build a World-Class Orthopedic, Spine Program
On 06/18/22, between 10:20 – 11:00am, Lorraine will be giving a presentation titled "What it Takes to Build a World-Class Orthopedic, Spine Program."
Becker's Hospital Review Annual Spine, Orthopedic + Pain Management-Driven ASC Conference is considered a world-class event. Learn from and network with over 118+ Surgeons and over 190+ ASC, Ortho and Spine Professionals from leading hospitals and healthcare systems.
This fast paced and thought-provoking session will cover the following topic:
What it Takes to Build a World-Class Orthopedic, Spine Program

Learn more about this presentation or join the event.
#BeckersAnnualSpineOrtho
June 16th to 18th, 2022 in Chicago
The Swissotel Chicago
323 East Wacker Drive
Chicago, IL 60601

June 21st – 22nd, 2022 Online Virtual Event
Virtual Event Online
About Lorraine Hutzler, MPA
Lorraine Hutzler, MPA
Associate Program Director, The Center for Quality and Patient Safety, NYU Langone Orthopedic Hospital

https://go.beckershospitalreview.com/hubfs/Beckers%20June%202022%20Conference%20Brochure.pdf