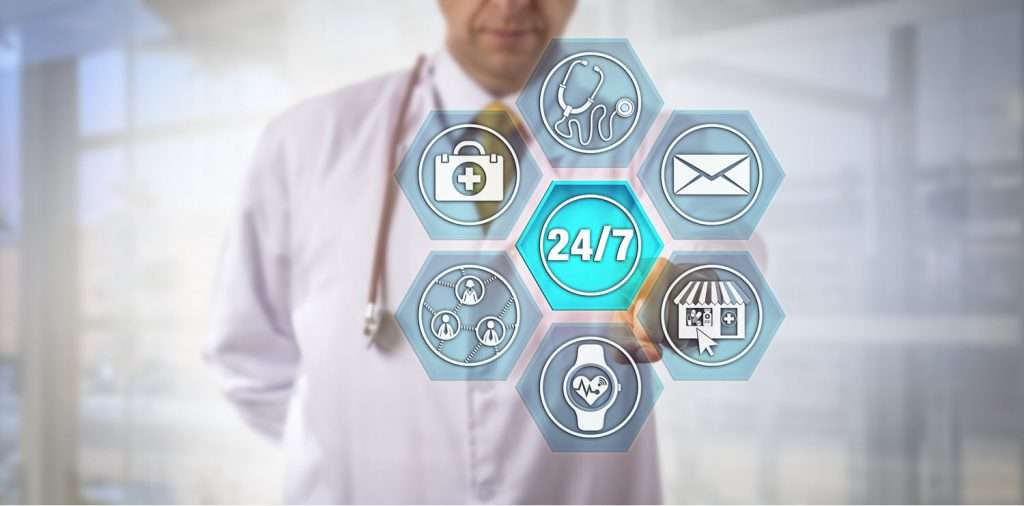 Here are the Best 6 Healthcare Recruiting Talent Acquisition Tips in 2021:
1. Highlight or Supplement Company Benefits to Support Mental Health
The pandemic has affected most individuals, and many are experiencing mental health-related issues and extreme cases of stress, burnout, and anxiety.
Highlighting mental health care and services in your recruitment marketing and job descriptions is just one way to anticipate the inevitable question.
Does your organization currently have any benefits or a healthcare provider that assists well with mental health? Is there a low-lift benefit you can offer, such as arranging an employee discount for the Calm or Headspace apps?
This healthcare recruiting talent acquisition tip came from SFGate.com's "5 Healthcare Recruiting Strategies to Find the Best Candidates."
2. Improve Benefits
The healthcare industry has become more competitive when it comes to attracting the best and most qualified candidates to fill positions.
To get an edge over competitors, healthcare organizations need to become more innovate when it comes to compensation, benefits and flexible work environments.
Healthcare organizations need to look for ways to implement policies around flextime and telecommuting where it makes sense and talk to potential candidates about the benefits that matter most to them.
Some candidates will prefer traditional benefits packages, but others might prioritize opportunities in learning and development, mentoring and career growth.
PeopleScout.com shared "Six Tips For Healthcare Recruiting."
3. Always Have an Agenda and Questions Prepared
An agenda gives the candidate the impression that you're organized, and it helps keep the meetings on track.
That gives you more time for personal rapport-building at the beginning.
It always helps to jot down questions you'd like to ask ahead of time, including some personal questions (that are acceptable in an interview) to help fuel the small talk.
Having your questions ready to go will show the candidate you're interested and engaged.
Andres Lares shared this recruiting tip on Recruiter.com's "6 Simple Ways to Make a Good First Impression on Candidates."
4. Improve the Remote Onboarding Process and Reduce Turnover
One of the biggest trends in recruiting that happened last year involved the rapid shift to remote work.
This shift left many teams scrambling to create a virtual onboarding program at a moment's notice.
Now that the dust has started to settle, talent acquisition managers are saying that prioritizing improving onboarding, since working from home exposed some gaps.
This talent acquisition tip came From LinkedIn.com's "Recruiters Share Their Top Priorities for 2021."
5. Future-Proofing Means Doing it Well, Right Now
Though the market currently favors employers, recruiters need to continue to operate in the same way they did during a competitive job market, says Gaspin.
"For the people you're hiring now, if you're trying to take advantage of a bad situation and you're underpaying or doing whatever else you feel like you could get away with, when things are back to normal and it's more of a candidate market, you're going to be stuck," he says.

"The mistake that most companies make during recruiting is hiring the person who's capable of doing the job now, rather than hiring the person who can help the company achieve its mission in the long run," says Dave Carvajal, CEO of Dave Partners, an executive search firm.
"6 Recruiting Strategies to Win The Talent War in 2021" from BenefitNews.com shared this talent acquisition tip.
6. Rethink the Skills Required for Today's Working Reality
"Covid-19 has forced companies to reassess core capabilities, culture and what qualities truly make an employee successful in today's working world," says Moran.
With these qualities in mind, recruiters can use digital hiring tools like pre-hiring assessments and virtual interviews to gain a better feel for an employee's job fit.

Success-capable candidates in 2021 will demonstrate strong communication, ease with technology and a flexible, adaptable approach to their work.
"Recruiters who screen for these traits will streamline the hiring process and ultimately have a positive impact on employee performance and satisfaction for the long-term," says Moran.
This recruiting tip came from Forbes.com's "4 Ways Hiring And Recruitment Will Change In 2021."
How Will You Use These Healthcare Recruiting Talent Acquisition Tips in 2021?
Healthcare Recruiting Pro Tip: If you want to shortcut your way to recruiting and hiring for open positions and staffing needs, you need targeted candidate and talent personal contact information to reach them quickly.
Looking for Healthcare & Medical Databases, Lists, Emails & Cell Phone numbers of Healthcare Professionals?
Heartbeat.AI provides valuable accurate Healthcare & Medical Data Lists, Emails & Cell Phone Numbers of Physicians, Doctors, Nurses, and other Locum Tenens Professionals. Lookup over 10 Million Healthcare Providers contact info in a few clicks and get their personal email address and cell / mobile phone number instantly.
Sign up for Heartbeat.AI Free Trial today.
Cover Image Licensed from: 123RF.com / Leo Wolfert.