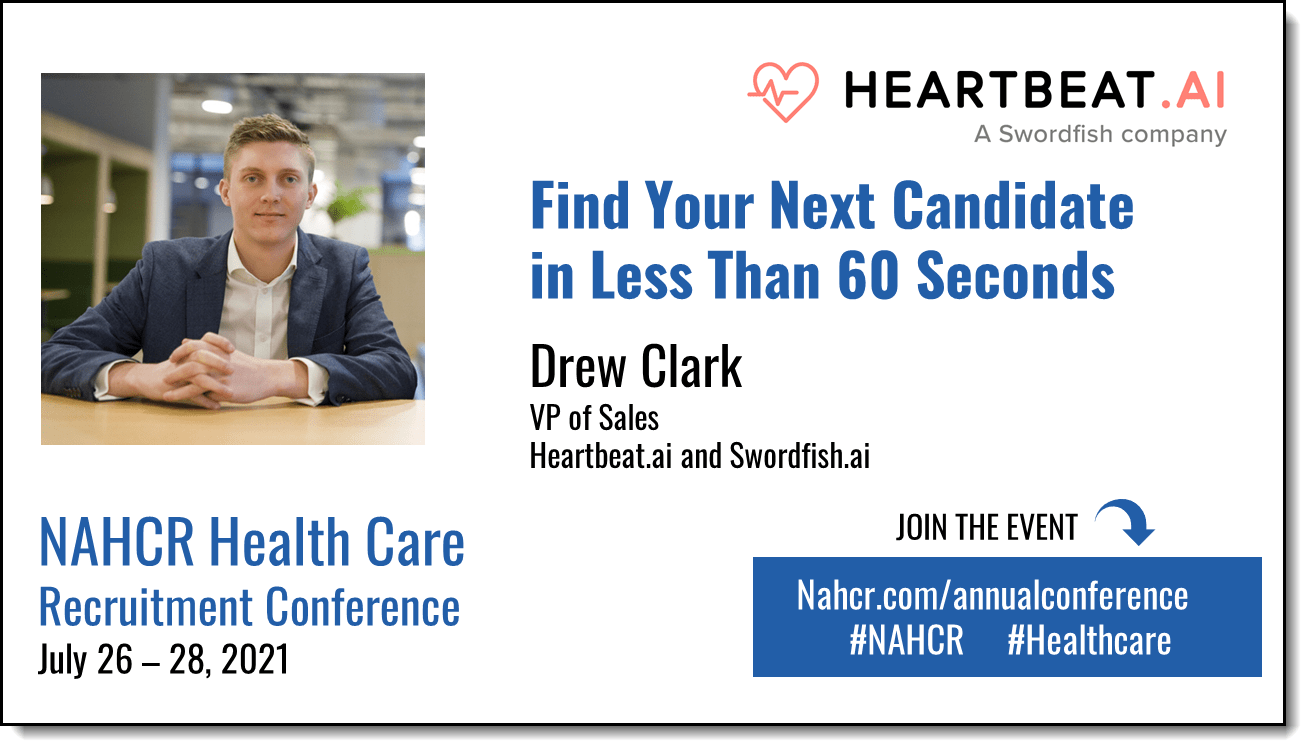 Drew Clark is speaking at the National Association for Health Care Recruitment (NAHCR) Conference. Drew's presentation is titled, "Find Your Next Candidate in Less Than 60 Seconds."
NAHCR Health Care Recruitment Conference Presentation:
Find Your Next Candidate in Less Than 60 Seconds
Heartbeat.ai was created as a means to transform Healthcare Recruiting out of a deep need.
Traditional methods of sourcing takes an average of 21 hours to source hard-to-fill positions. Utilizing Heartbeat.ai, our clients have brought that time down 4 to 5 hours on average, allowing for more roles to be filled faster and more efficiently.
Heartbeat.ai has created a full, one-stop shop for Healthcare Sourcing and Contact Information. With Sworfish.ai being the parent company, our time in the Data Intelligence Industry has uncovered a void and demand for a much needed solution in Healthcare Recruiting.
The platform hosts 10 million health care professionals: all verified in real-time by data sources in the form of a search engine. The search engine itself allows for recruiters to filter down candidates by, specialties, credentials, state licenses, where they live, years of experience, and prescriptions written, just to name a few. The search engine has both simplicity in use and depth of live information. Allowing for an easy-to-use experience with game changing results.
Once the candidates have been filtered down, recruiters are able to receive the personal contact information, both personal emails and cell phone numbers of the candidates, with a 92% accuracy rate. This information is sourced in real-time from a vast network of over 200 live data partners. Then, verified in real-time for deliverability and connectivity, allowing us to maintain the highest level of accuracy. 
The database contains over 10+ million contact records. It hosts 5.8 million Nurses, 2.5 million Physicians, and 250,000 Dentists, along with many other specialty Clinicians in other areas.
Check out Heartbeat.ai today for a Free Trial.
Don't miss this NAHCR Recruiting Presentation:
https://www.nahcr.com/annualconference
Drew Clark
VP of Sales
Heartbeat.ai and Swordfish.ai
Watch Drew Clark's Recruiting Presentation: